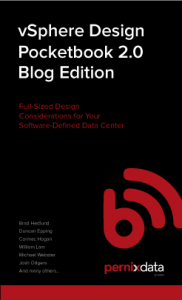 Following the success of the first vSphere Design Pocketbook, PernixData has created a new version, this time dubbed "Blog Edition".  Where the first book focused on small "tweet sized" design tips, the new one allows for more in-depth articles, lifting the first editions 200 character limit.
For some reason, I have been lucky enough to be selected as one of the contributors!
You can pick up a printed copy at the PernixData Booth (1017) at VMworld US,  or pre-order your electronic copy today. For more details, and a complete list of contributors, check Pre-order vSphere Pocketbook Blog Edition.
Also, if you're located in Norway, check out Arrows seminar with PernixData's Frank Denneman on September 16th. Perhaps I'll see you there?
Related Posts
Post last updated on July 19, 2018: Various tweaks