VMware vSAN 7.0 Update 2 has been made generally available, and what is new this time around?
Disaggregated HCI, Durable Writes, Enhanced File Services, Efficiency Enhancements, vSAN over RDMA and more!
Below is a quickfire list of new features and enhancements.
As is customary, a new vSphere release comes with a new vSAN release as well. The vSAN VCG Notification Service has already been updated with the vSAN 7.0 Update 2 details: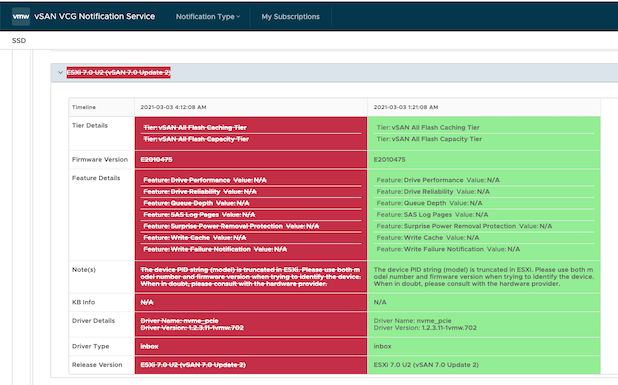 What's new in vSAN 7.0 Update 2? #
Disaggregated HCI #
Perhaps an oxymoron in itself, but vSAN 7 Update 2 comes with a new Disaggregated HCI option. When vSAN HCI Mesh was announced back in September 2020 it was positioned is a way of sharing vSAN capacity between independent vSAN enabled clusters, but in 7.0 Update 2 VMware takes this further. In this new release it will be possible to share vSAN storage from a vSAN enabled cluster to non-vSAN clusters as well, over the vSAN network/protocols. No iSCSI or NFS in the picture here, just pure unadulterated vSAN traffic.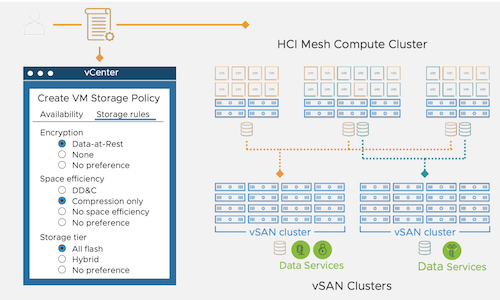 Up to 128 hosts can be connected to a remote vSAN datastore
Storage Policy Integrations with Deduplication & Compression or compression-only settings
Data-at-rest encryption is supported
Supported on both Hybrid or all-flash vSAN configurations
No vSAN license needed for HCI Mesh compute clusters
The real kicker here is the last item in the list above. There is no requirement for vSAN licensing in remote clusters that consume vSAN storage.
vSAN Enterprise, or Enterprise Plus, licensing is required on the vSAN enabled cluster itself.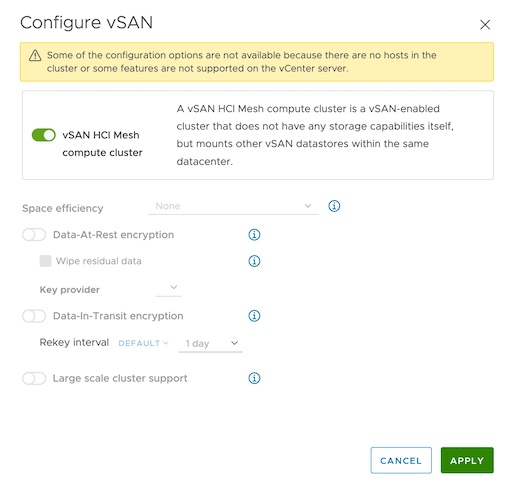 As the screenshot above shows, space efficiency, Data-At-Rest encryption, Data-In-Transit encryption and Large scale cluster support policies are defined on the destination (possibly non-vSAN) cluster, and not the source vSAN Cluster. Being able to consume vSAN resources from other clusters in the environment is a great feature enhancement, and can potentially have huge design implications for a lot of customers going forward.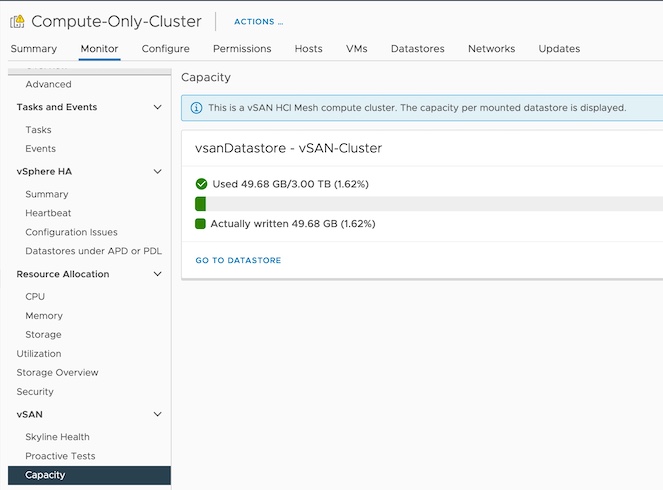 Having compute-only and storage-enabled clusters provides a new level of flexibility, and scalability. Consider a blade heavy environment where vSAN support is limited, those blades can now consume storage over Ethernet from a vSAN Cluster even if their own HBA's and are not on the HCL.
Monitoring is also taken care of, even from the remote clusters perspective.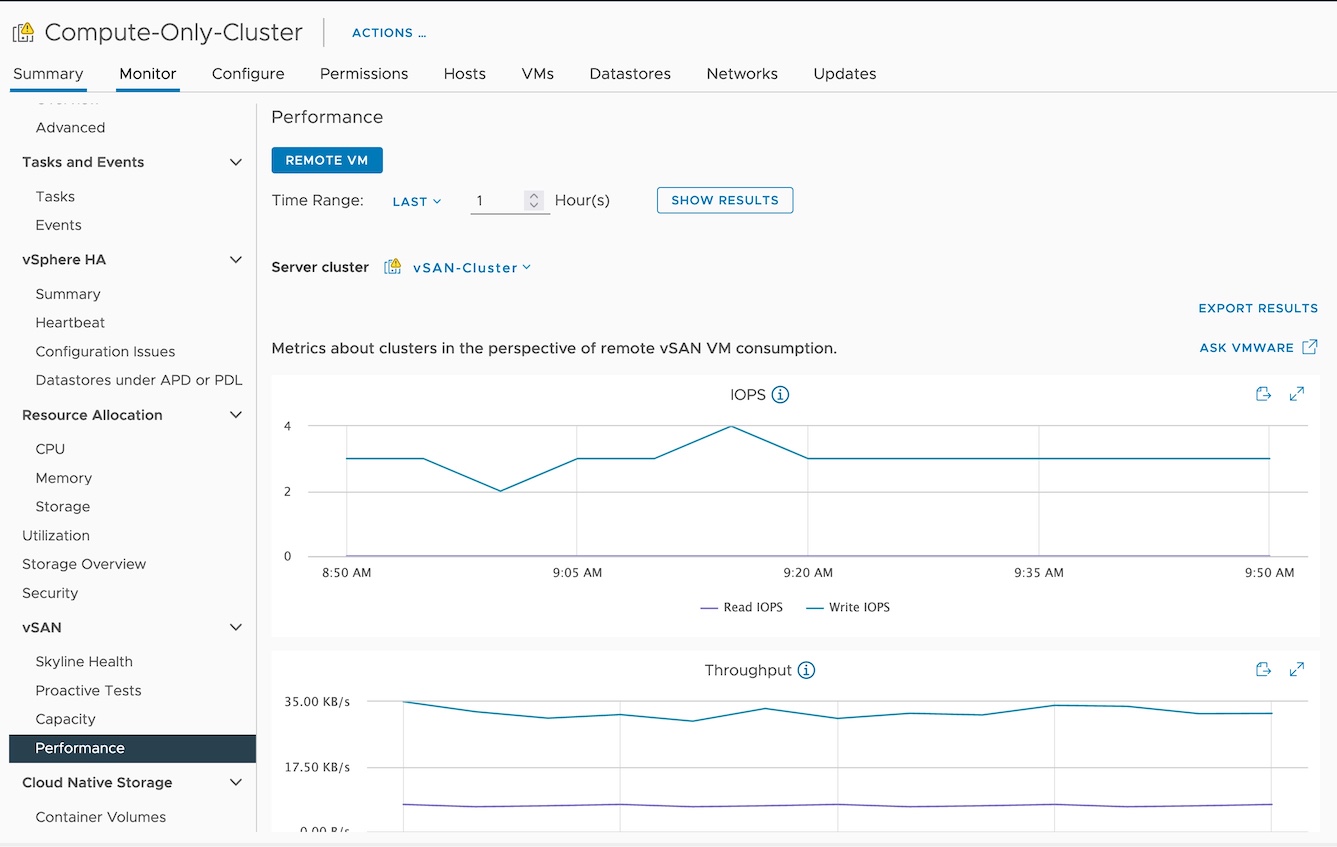 VMware has also published a video showing the setup
Enhanced Data Durability During Unplanned environments (Durable Writes) #
This is a big one, as it offers a new way of maintaining the latest written data, redundantly, in the event of an unplanned transient error or outage.
This feature, called Durable Writes, ensures that the latest writes quickly gets committed to additional host ensuring durability of new data, combined with efficient and fast resyncs to stale components on recovered or new host. In reality, this almost makes a vSAN policy of FTT=1 act like a FTT=2 policy. In vSAN 7.0 Update 1, this was added for Maintenance Mode operations, but in Update 2 this also comes into play for unplanned outages.
This enhancement also includes more frequent checks for silent disk errors.
vSAN support of vSphere Proactive High Availability (HA) #
Proactive response when vSAN host detects impending failure

Evacuates VMs
Migrates object data

Uses plug-in provided by participating OEM server vendors
Supports quarantine mode and maintenance mode
Increased application up-time
Health check history and correlation #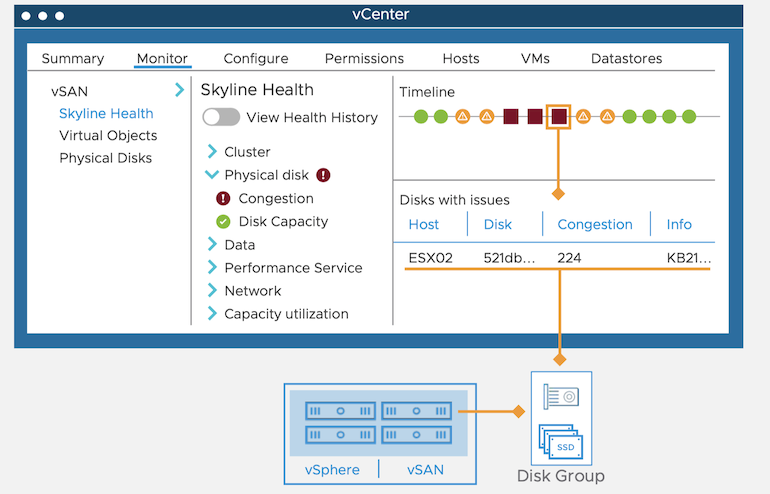 View a timeline of discrete error conditions
Gain insight into transient conditions that are difficult to track
Provides relationship with other alerts

Related symptoms or impacts
Core issue
File Services Improvements #
vSAN File Services also gets a few improvements:
Support for vSAN stretched clusters and 2-node topologies
Support of Data-in-Transit Encryption and UNMAP
Snapshots for file services volumes

Via API
Extract differences between two snapshots

Improved scale, performance, and efficiency
The availability of snapshots API for File Services is great, and I expect backup vendors will jump at being able to back up file shares directly.
The addded support for File Services in vSAN Stretched Clusters is also a good addition, and offers affinity settings to ensure local access when available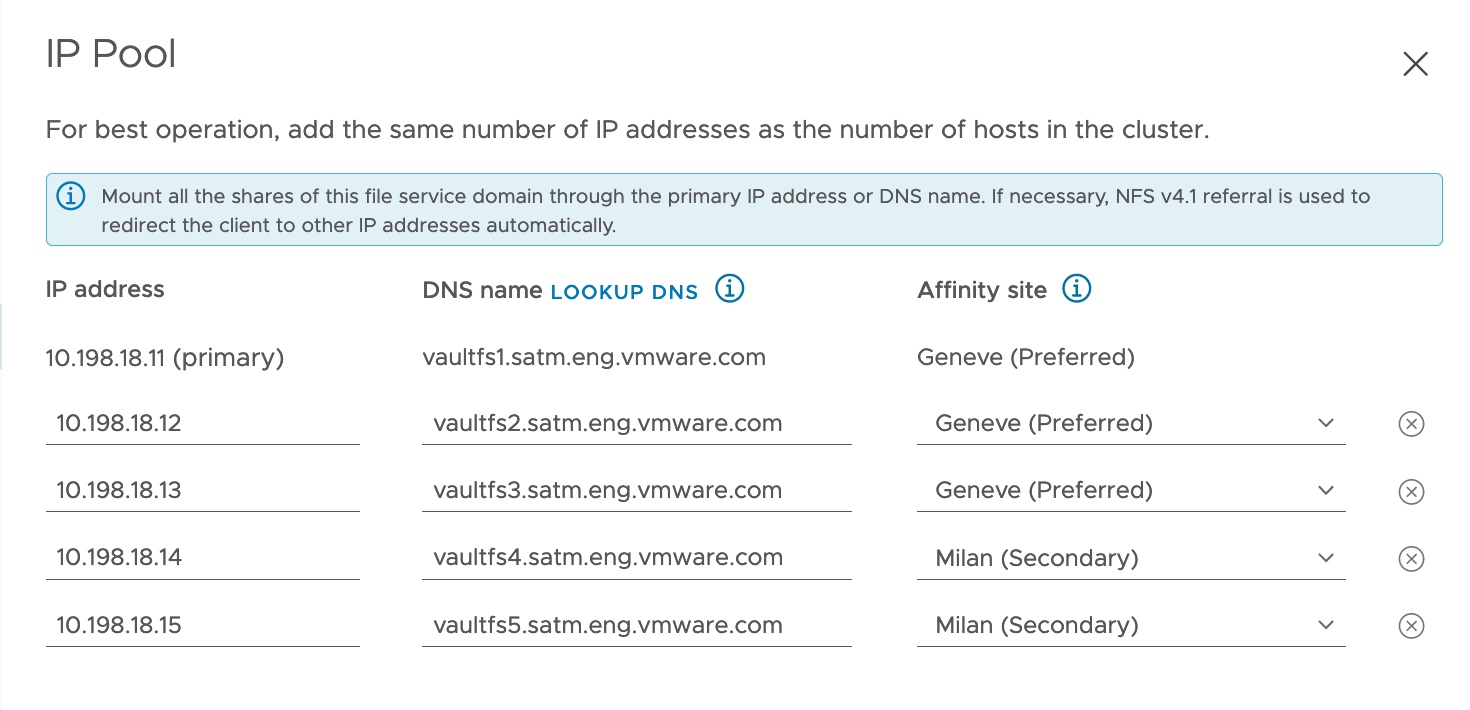 The new support for 2-node topologies is also welcome, as it offers a real option for consolidating NAS filers in ROBO environments and even further reduce the footprint in those environments.
Efficiency Enhancements #
Any efficiency enhancements are welcome, and this releases promises a few important ones and thus improving the cost per I/O.
Improved performance when using RAID-5/6 erasure codes

Improved larges equential writes
Reduced CPU usage

Improved CPU efficiency writing data to cache/buffer tier
Improved small random I/O
vSAN over RDMA #
vSAN over RDMA promises performance increases for vSAN. Initially there is limited hardware support for this configuration available, but expect more RoCEv2 NICs to be certified in the time to come. At the time of release, there are three Mellanox NICs on the HCL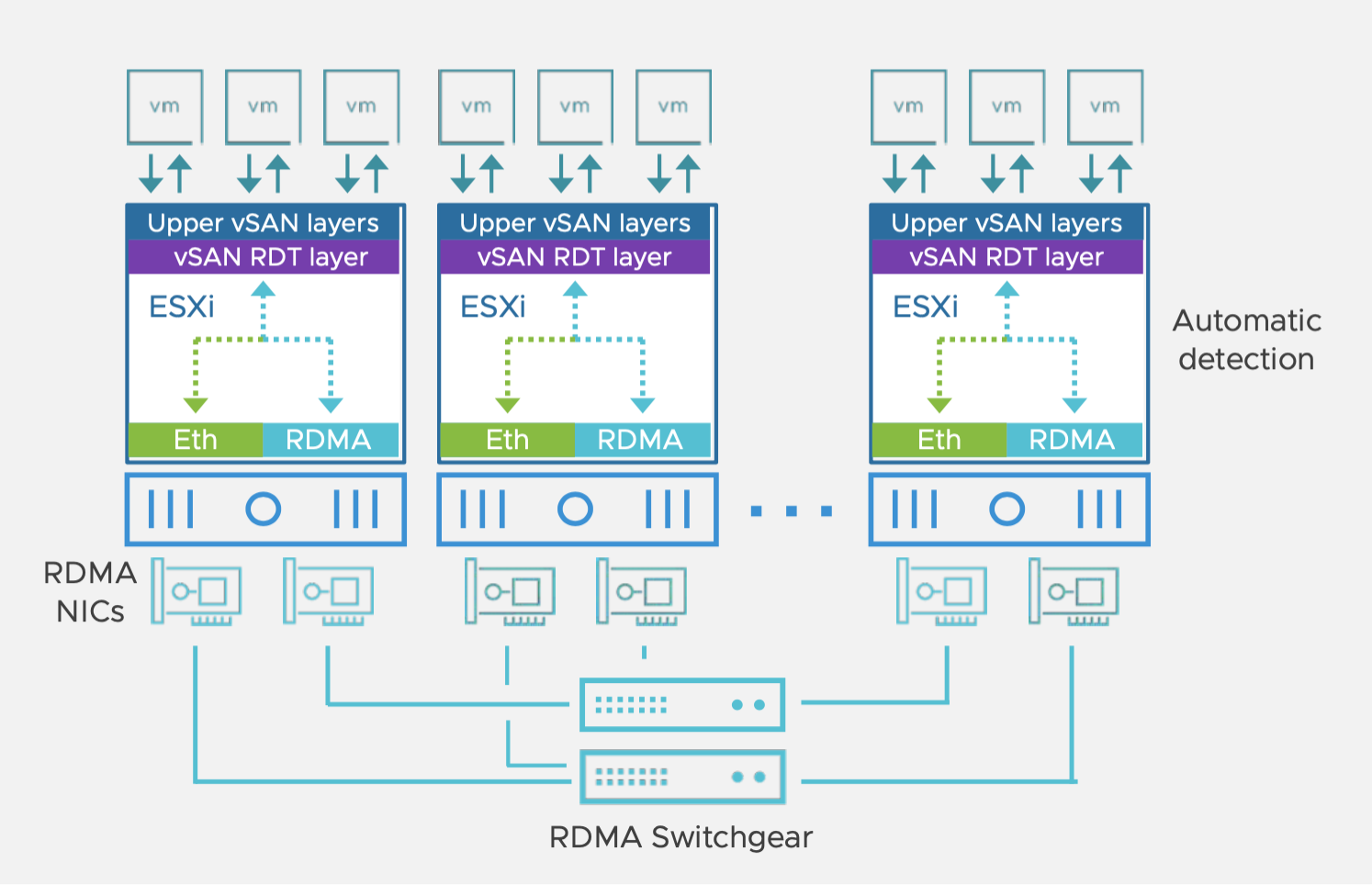 Efficient connectivity for vSAN clusters using RDMA
Improved CPU utilization and app performance for certain workloads

Sequential reads
Random mixed reads/writes

Supports RDMA over converged Ethernet v2 (RoCE v2)
Automatic detection and handling of RDMA adapters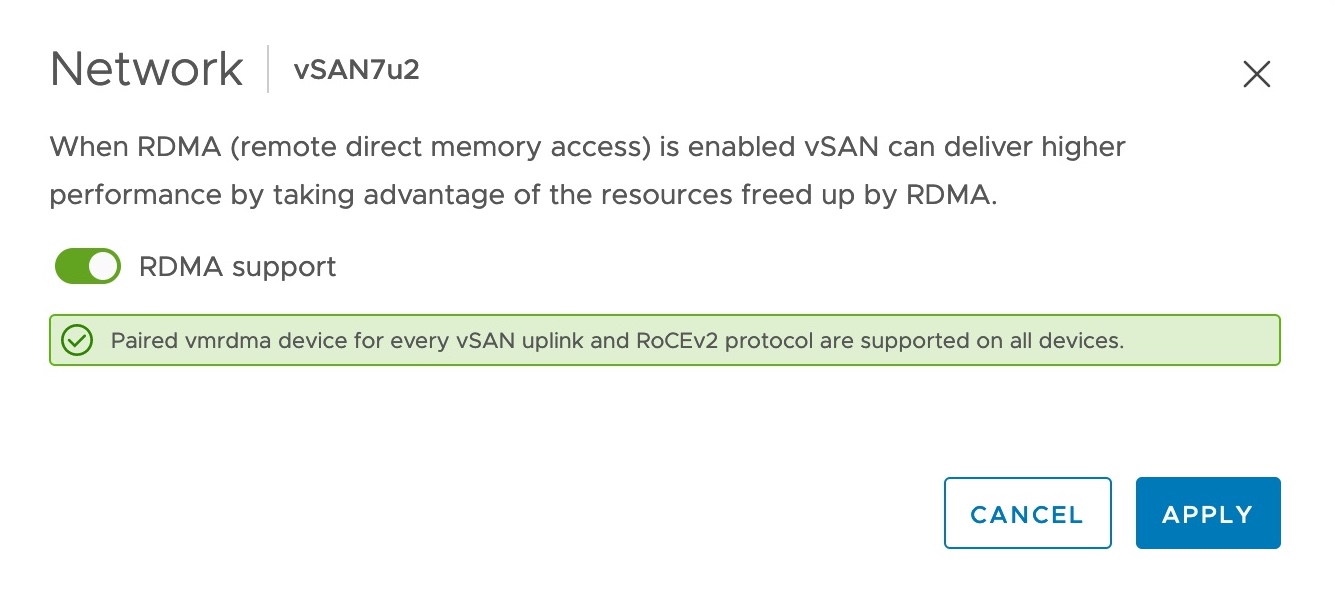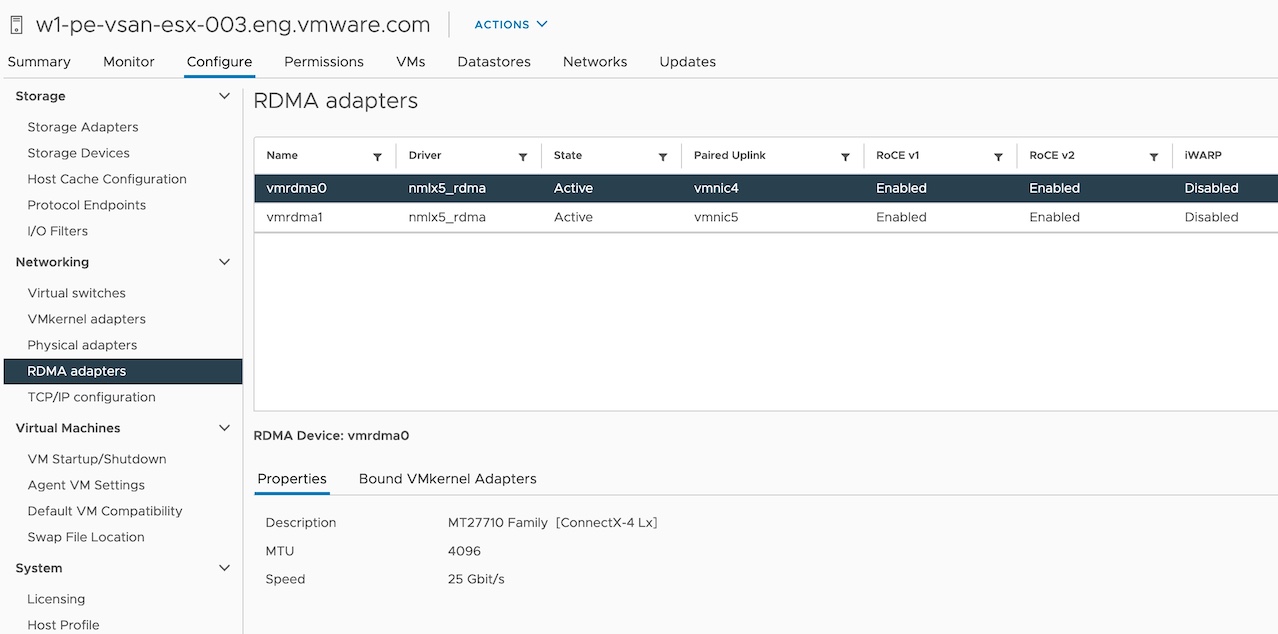 There are also other, minor enhancements in vSAN 7.0 Update 2, and I am sure that more details will emerge in the following hours and days after the initial announcement. I will try to maintain a list of official vSAN 7.0 Update 2 resources in the list below, as I find them.
Release Notes #
Other Resources #
Related Posts
Post last updated on March 9, 2021: Add vSpeaking Podcast Ep 179: VMware vSAN 7 Update 2 to resources list