Today I finally got word that I will indeed be going to VMworld Europe 2010 in Copenhagen!
I've done the registration process, so all that remains is to book the flight and hotel and I'm ready to go.
To celebrate this, I've decided to announce a little contest;
Where is Christian aka h0bbel? #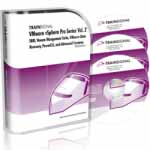 The first person to find me, as in the physical me, in the Bella Center during VMworld Europe 2010, (I'll be there Tuesday - Thursday) will receive a free copy of the Trainsignal VMware vSphere Pro Series Training Vol. 2 training package. No strings attached.
Info
All you have to do is find me and say "Hi". :-)
See you all there, and no I won't be wearing a red and white striped sweater and a beanie. I think.
Post last updated on June 26, 2022: Maintenance on some old posts, mostly linting.