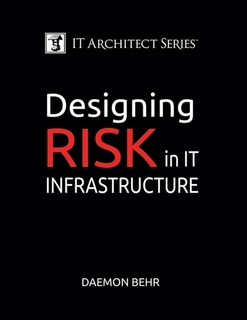 Disclaimer: I have contributed to this book as a reviewer, for no compensation other than receiving a free copy.
Another must-have book for system administrators and architects has been published!
By Daemon Behr
Paperback: 416 pages
Publisher: Daemon Behr (August 10, 2018)
Language: English
This book wil help you understand what risk really is, a variety of different risk factors and how to mitigate them.

Do you know what risks exist for a given solution, and why?
Do you factor in, and calculate risk when designing the architecture? If so, how do you do it?
Risk analysis, do we need it?
Daemon does a great job explaining all of this, and risk analysis is an often underappreciated exercise that we leave to late in the design process:
A book that talks about the thing we often overlook when designing solutions for anyone….the inherent trade off between risk/cost/functionality. https://t.co/6y3yXwv5jk

— Mark Gabryjelski (@MarkGabbs) August 30, 2018
Besides having a wealth of information, perhaps sometimes to much to ingest in a single sitting, it's also packed with great (and funny) examples, quotes and historical factoids. This is a book you'll have to read more than once, and use as a reference later on.
This book shows you how to not be a pig.
Order Designing Risk in IT Infrastructure now, I promise you won't regret it.
This is the third book in the IT Architect Series, after Foundation In the Art of Infrastructure Design: A Practical Guide for IT Architects and The Journey: A Guidebook for Anyone Interested in IT Architecture
Note: My recommendation of the book is based on the chapters I've reviewed, and not the final printed product.
Related Posts
Post last updated on April 17, 2022: Fix the remaining tweet shortcodes