Another book in IT Architect series has finally been released: IT Architect Series: Stories from the Field, Volume 2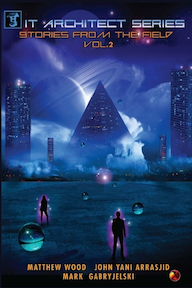 This is the follow up to Volume 1, which was released back in 2020.
I have had the privilege of making a chapter contribution to this second volume, just as I did for the first one, joining an all star list of seasoned IT-professionals. Dont just take my word for it though, listen to Steve
I'm helping to edit "IT Architect Series: Stories from the Field Vol2"
this weekend (@vcdx001 & @MarkGabbs). Fascinating lessons learned along these lines from some of the world's best IT architects.

— Steven Kaplan (@ROIdude) November 19, 2022
Order your copy today! — I can't wait to get my hands on a physical copy of it!
And who knows, perhaps there's even a Volume 3 in the works?
Book Details #
Pages: 233
Synopsis #
What is it like to be engaged on an IT project when it turns into a horror story?! Volume 2 continues with more stories from leading IT Professionals who describe their most challenging Datacenter projects and provide insights into why failures occurred, including lessons learned and what they would do differently. Recommended reading for members of the IT Community who deliver solutions in the field and want to avoid learning the hard way
Table Of Contents #
My Lessons in ROI
A Cut Too Far
Assumptions to the Rescue
Assumptions are the Root of All Evil
A Flip of the Switch
If You Do Not Ask, You Do Not Get
Father Time
Stakeholders, Requirements, and the Project
Confidence Is Key
Stand by Your Team
Is Your Cloud White, Black, or Gray?
Holy Grail – What a Fail!
None of Their Business
Alignment, Cooperation, and Evaluation
Sometimes Compression Matters
When the Levee Breaks
Design by License
Admitting Defeat
Chasing a Unicorn
The Perils of Overselling
The Greener Grass of Greenfield?
Purpose and Scope
Observe, Learn, and Say Something
Stories from the Field: Retrospective
IT Architect Series and Other Works
About the Editors and the Artist
Authors and Contributors #
Editor-in-chief: Matthew Wood
Managing editor: John Arrasjid
Selected by: Mark Gabryjelski
Foreword by: Steve Kaplan
Cover design or artwork by: Ioannis
Authors: Abdullah Abdullah, Chris Noon, Chris Porter, Christian Mohn, Dave Cook, Doug Baer, Faisal Hasan, Graham Barker, , Jason Yao, Jeffrey Kusters, Joe Clarke, John Arrasjid, Matthew Wood, Matthieu Braga, Marco Lopez, Mark Gabryjelski, Michael Francis, Paul Cradduck, Phoebe Kim, Russell Pope, Sachin Dharmadhikari, Steve Kaplan, Tony Foster, Wesley Geelhoed, Yves Sandfort.
Related Posts
Post last updated on May 23, 2023: Update it-architect-series-stories-from-the-field-vol2.md