Guest Post #
Info

This is a guest post by Stine Elise Larsen, Senior Datacenter Consultant for Proact. #
You can find her on Twitter and LinkedIn. In a work environment she is normally overly cautious, perhaps even to the point where she tries to make herself virtually invisible. In the real world she plays arcade dance games and attends rock concerts.
For a list of all of Stines posts, see Guest Authors.
I've been a member of VMUG for years now and I've always looked up to the people organizing it. I got asked to hold a short presentation for Norway VMUG in November and I was so honored. Then the nerves started!
What should I talk about? Could I be interesting? Am I good enough? Impostor syndrome was doing a number on me, but I was adamant that I would get over this. I had always secretly wanted to speak at VMUG and now was my chance.
I've never had a problem talking to crowds of people that I already know, but this would be in front of a lot of people I've never seen before, both physically in Oslo but also streamed to two other cities in Norway; Bergen and Trondheim. We were also having a guest speaker Amanda Blevins joining us from another country.
A quick pep talk from my colleagues in Proact and VMUG leaders and I was convinced. I was going to have a presentation about my first trip to VMware Explore.
During the week in Barcelona I took notes and pictures to prepare for the presentation. It was fun to constantly think could this be funny or interesting to talk about during my presentation. The best picture was taken at the vRockstar event of Christian, Brad Tompkins (the CEO of VMUG) and me. Christian and I had not coordinated our outfits, I promise.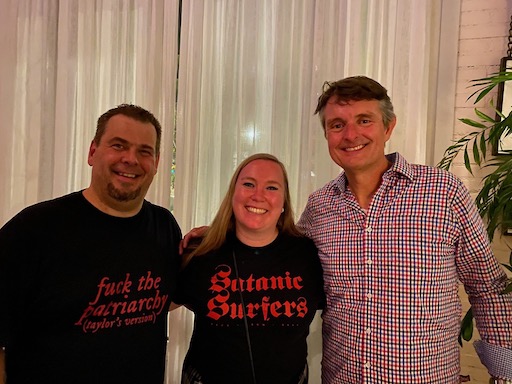 I got home and started working on my presentation. I wanted it to be a mix of tips, experiences and a whole lot of humor. I also wrote a blog post about the subject: My First VMware Explore
I spent several hours during Explore and the two weeks after constantly writing and changing my slide deck. I also tried to hold the presentation in front of the mirror countless times.
Two weeks after Explore the day had come and I was going to hold my presentation.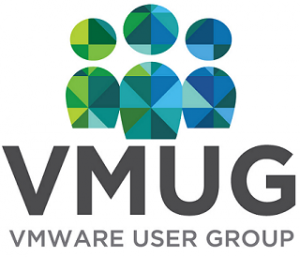 We started the event off with some pizza and mingling. I met some people I've never met before, and we talked a lot about shared experiences and what we currently work on. That's in my opinion one of the best things about VMUG meetings, the chance to meet likeminded people that work with different parts of the same product. The amazingly talented Amanda Blevins talked about Multi-Cloud Services. My brilliant co-workers Rudi Martinsen and Christian Mohn talked about news from VMware Explore.
After that it was my turn. I'm not going to lie; I was very nervous and don't really remember much about it. But what I do remember is how sweet everyone was both before and after I was speaking. VMUG really is a very including community and if you ever get asked to you should definitely do it.
I really hope I get asked to present again, in fact I'm certain I'll send in some session ideas going forward. In the meantime, I'll continue being an active member of the community, and contribute what I can — especially cheering on new speakers. It might be daunting, at first, but it's also very rewarding.
---
This is a post in the Guest Post series. Posts in this series:
---
Related Posts
Post last updated on January 4, 2023: Fix some typos.