Guest Post #
Info

This is a guest post by Stine Elise Larsen, Senior Datacenter Consultant for Proact. #
You can find her on Twitter and LinkedIn. In a work environment she is normally overly cautious, perhaps even to the point where she tries to make herself virtually invisible. In the real world she plays arcade dance games and attends rock concerts.
For a list of all of Stines posts, see Guest Authors.
I knew one thing was going to change when I transitioned from being an operations engineer and became a consultant: the fact that I had rarely done any kind of certification.
Trying to figure out what certification I should start with was a daunting prospect, but luckily, I could ask Christian Mohn, and we decided I should start with VCP-DCV for vSphere 7.x (VCP for short). It's described by VMware as "The VCP-DCV 2022 certification validates candidate skills to implement, manage, and troubleshoot a vSphere infrastructure, using best practices to provide a powerful, flexible, and secure foundation for business agility that can accelerate the transformation to cloud computing.", and sounds like a good place to start to showcase that you are generally skilled when it comes to working with VMware.
I started on the course VMware vSphere: Install, Configure, Manage [V7] and even though I had worked with multiple VMware products for years I learned a lot. This was also the first VMware course I had taken, and I was so happy that my colleagues told me I could set the speed up to 2X.
After the course was done, I did a lot of the tests, read through the course material and thought I would be set for the VCP exam.
The exam is 70 questions in a mix of single and multiple choice answers, the duration is 130 minutes and the passing score is 300.
My first attempt at the exam did not go well. I somehow thought I would ace it just because I had worked with VMware for so long. I was running a fever but instead of postponing I felt sure it would be no problem. Needless to say, I failed. The exam is structured on the assumption that you are experienced in VMware products generally, so you are bound to get questions on things you have never worked on or thought about before. There were also a lot of answers that I had to cram for. For example, in my day-to-day work I rarely had to calculate CPU shares and percentages, but after cramming how to do this it made a lot of the questions easier to calculate.
I was determined to not fail again so I started reading up on study guides. Christian mentioned the VCP-DCV for vSphere 7.x (Exam 2V0-21.20) Official Cert Guide and I immediately started reading it — In my opinion this is the superior study guide of all the ones I was using.
I also found out that with the study guide you get access to practice exams on the Pearson site: pearsontestprep.com. This is going to sound like a sponsored article, but I cannot say how much the Pearson practice exams helped me. I bought the book first via Amazon and got a hold of the normal practice test, but I then I bought the premium edition, and it links to the eBook. Whenever I answered a question wrong it immediately points you to the PDF of the eBook and the chapter you should reread. This was extremely helpful and made studying for the exam so much easier. When I felt like I were acing the practice exams I set a date to retake the VCP exam.
One thing I can't stress enough is that if you are taking the exam from home, you should take the pre-exam test of your equipment several times before the exam. I had done mine, but a change in the company's antivirus program suddenly stopped the exam program from working and it made the actual exam day very stressful. Clean your desk and make sure the room you are taking the exam in is tidy. You must take pictures of the room from several angles beforehand. There is a person watching you take the exam from your webcam. When I was taking the exam, I was asked to show my desk on several occasions.
When I had gone through all my questions, I submitted my answers, and I was so happy to see that I had passed!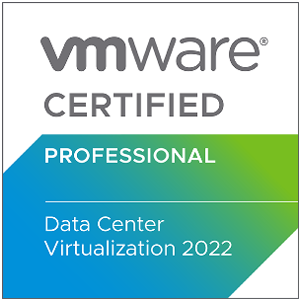 I even got a physical pin at VMware Explore to prove it!
In conclusion I would recommend everyone that is planning on taking the VCP-DCV to prepare using the Pearson prep test and eBook or follow and read everything mentioned in the prep guide.
---
This is a post in the Guest Post series. Posts in this series:
---
Related Posts
Post last updated on January 4, 2023: Fix some typos.