I got in to Barcelona yesterday, and I have to say it is really nice to have some time before the actual VMworld crazyness starts. With no need to rush anything, we just found the hotel Arrow ECS Norway has booked for us, and relax. Well, I say relax, but I mean walk around Barcelona like a mad man. 22k steps and 16.3 km takes a toll! The final step count for this week should be pretty insane.

This years hotel, the Grand Marina, is located smack dab in the Port of Barcelona. The last few VMworld's we have stayed at the Pullman Skipper, a great hotel in the Olympic Port, but I like that it has been switched around this year. The Grand Marina is also located closer to La Rambla, which is nice!
First order of "official" VMworld business, was dinner with Eirik at my favorite tapas joint, Guru Food & Cocktails — if you're ever there, don't leave without checking out the nachos!
This was the perfect run up to this years vRockstar party at the Obama English Pub.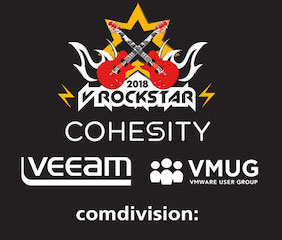 The vRockstar party has become a staple of the vCommunity, and VMworld Europe, and impressively enough, it is the 7th time Patrick Redknap, Marco Broeken and team arranges the what can only be described as the ultimate kick off for VMworld Europe.
Given the amount of work this is, it is truly special that they do this for the vCommunity every year. Huge thanks to them, as well as the sponsors who makes this possible year after year.
Even though I did not turn up in the infamous Justin Bieber T-shirt this year, I did "rock" a related t-shirt this year as well (in 2017 I "chickened" out and wore a Foo Fighters one). Yes, I was indeed the one wearing a Harry Styles tee.
This whole t-shirt thing has become somewhat of a tradition, and I have one restriction — I'll only wear t-shirts from acts I've actually seen live.
vRockstar was, as it always is, awesome and I met up with a bunch of the usual suspects and a bunch of fresh faces as well.
A great start to the week, now to get ready for the actual conference… Step count for day zero? Just above 19k.
Related Posts
Post last updated on August 2, 2019: More markdownlint