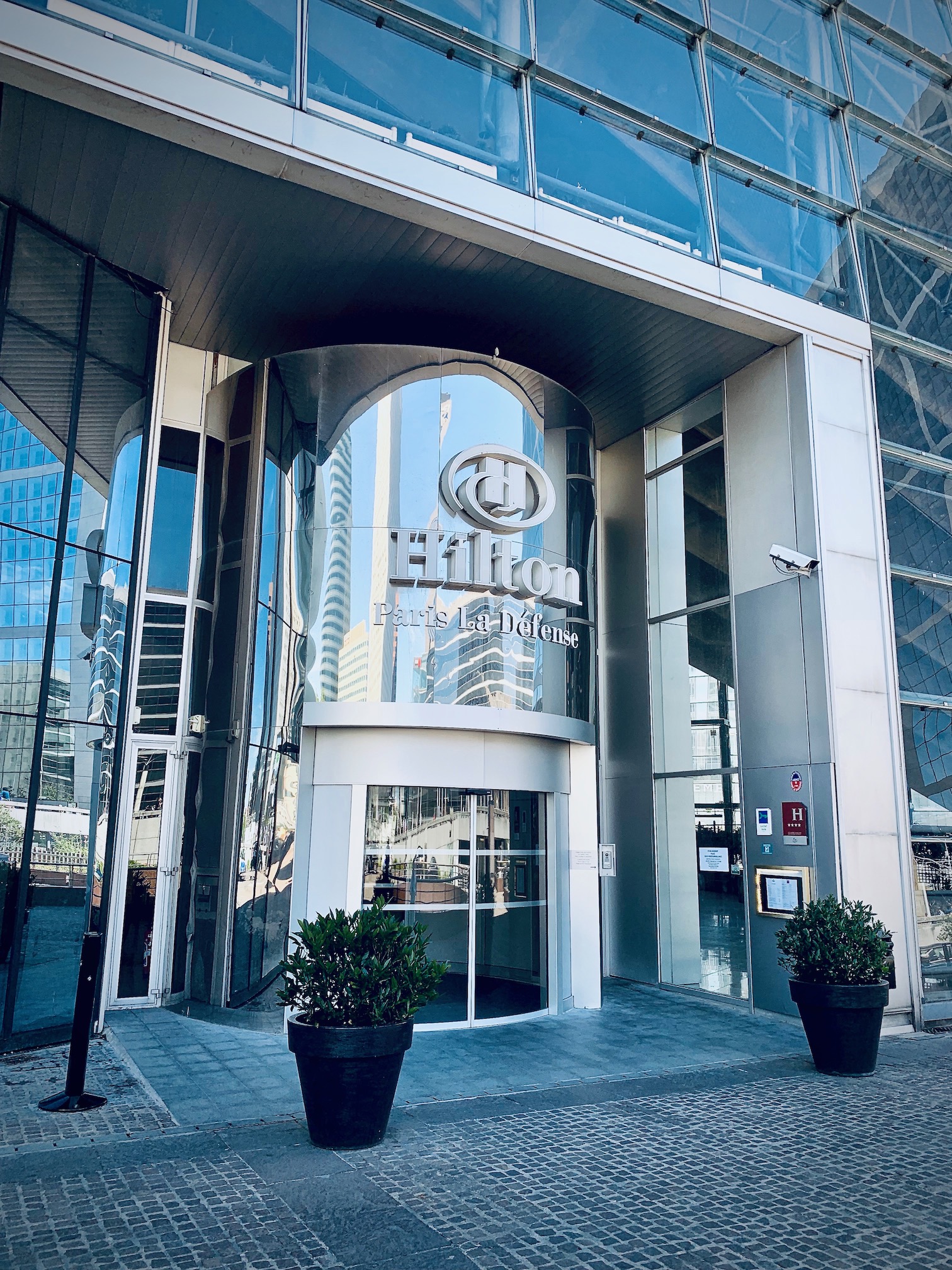 Back in late April I got notified that I had been accepted to attend the VMware Center for Advanced Learning Advanced Architecture Course, to be held in Paris, France July 9 - 19, 2019.

Now that it is done, I find myself on a train from Paris to Nice, rocking out to Hüsker Dü contemplating just what it is that I have been a part of.
First things first — this is not a class that can be taken lightly. You can not simply sign up for this, you have to be nominated and either work for VMware or a Partner to be taken into consideration to be accepted.
Description #
The Advanced Architecture Course is a very comprehensive program covering not just technical content across solutions; but it also includes presentation and business skills, our VMware IT Value Model and Digital Workspace Journey Model, solution design best practices, and internal and industry standard architecture methodologies.
Once accepted, there is a ton of pre-work that needs to be done before physically attending the course:
The pre-work has been assigned to you. An email from VMware WIRE should be in your inbox. The pre-work is worth 5 points of the overall course score and needs to be completed before Day 1.

Please note that it will take approximately 32h to successfully complete this material.
An estimated 32 hours of pre-work that needs to be done before attending the class, means that in total this will potentially eat up a total of close to three weeks of your schedule. That is not taking into account the case study that you are required to be intimately familiar with before day 1.
Expectations #
Complete the pre-work prior attending the course
Attend all the 9 days of the course
Engage individually in the class, complete some labs activities, and participate in group collaboration activities every day
Pass 8 daily Knowledge Check Quizzes during the 9 days
Conduct a Team Daily Status/Project report to PMO
Develop a Solution Design through team collaboration during the 9 days of the course
Present a team presentation of the solution design on last day of the course, defend the solution and answer panel questions
In order to pass the course, participants must obtain an overall score of 70% or above. The overall score is a sum of the pre-work, quizzes, class participation and labs (50%), the team collaboration (10%) and final team presentation (40%)
People, Process and Technology #
The Instructors #
We were lucky to have an all-star field of instructors during the training, just look at the team Henry Villar got together: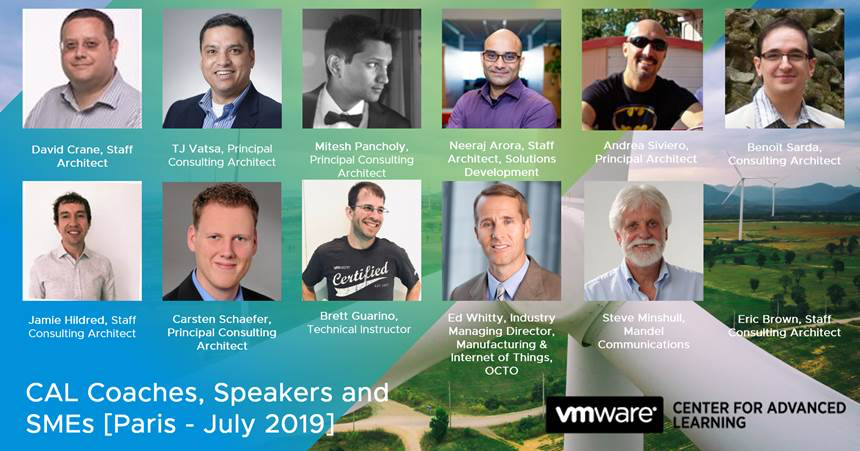 The Attendees #
In addition to classes running from 08:00 to around 16:00 every day, you will also need to work on the team presentation that is to be presented on day 9 of the training — Realistically you will need to work into late evening every day of the 8 days in order to get this done.
You will stress about it, and you will think that you probably aren't any good at any of this, and you will be wrong.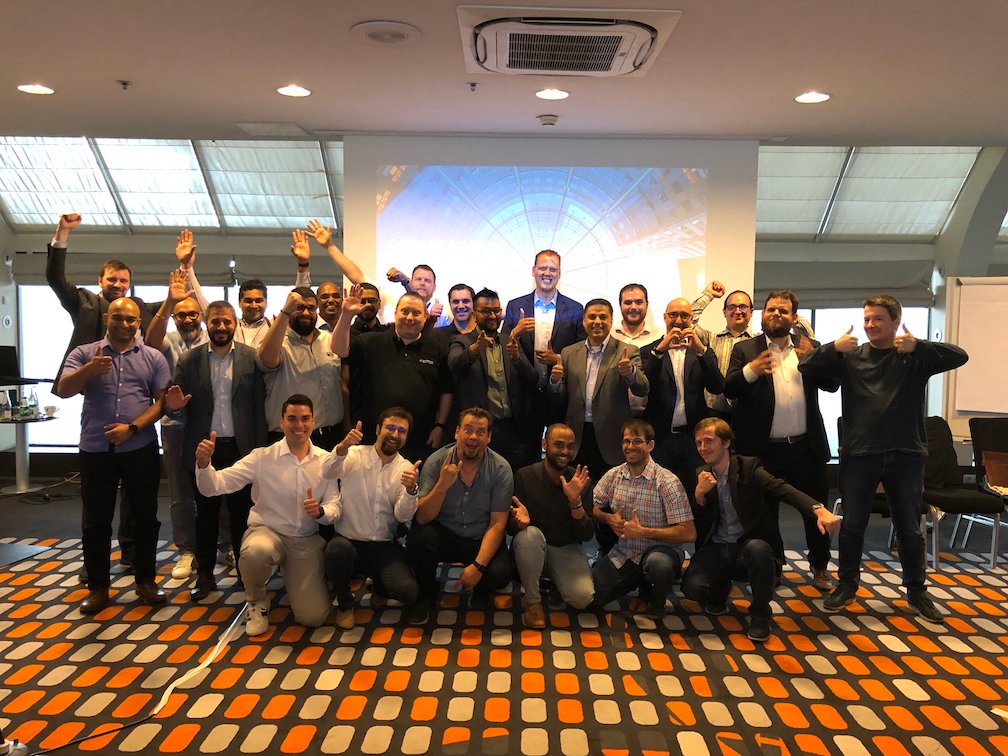 I was lucky enough to be paired with an amazing team:
Burak Bezirci, Senior Consultant, SDDC METNA (Turkey)
Christian Mohn, Senior Solutions Architect, Proact (Norway)
Domenico Caruso, Consulting Architect, SDDC (Italy)
Jason Meers, Senior Systems Engineer, Sub-regional Enterprise SE (UK)
And at the end of the week our presentation really came together. In fact, so much so that we were awarded 1st Place Final Team Presentation (Solution Design Architecture)! Way to go team!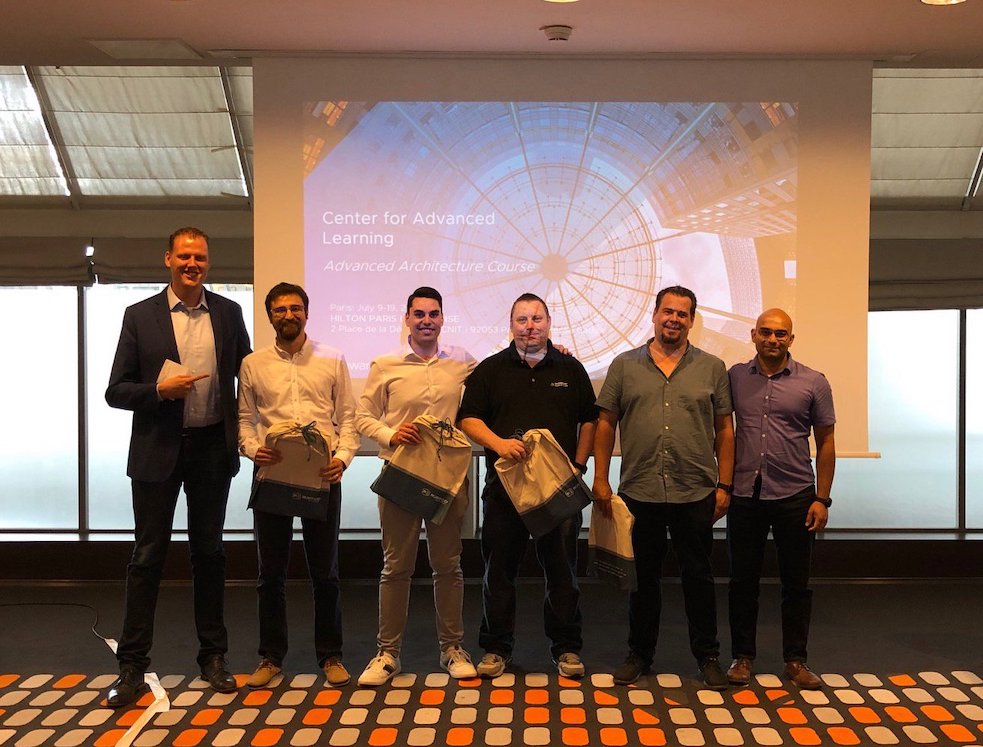 It has been an exhausting two weeks, but that being said, the time also flew by. If you ever get the chance to attend it, my advise is simply do it. Know what you are getting yourself into, but do it. It is worth your time if you want to enhance your architecture chops.
The class of Paris 2019 was a group of extremely talented participants, all of whom passed it with flying colors (scores ranged from 82 to 92 out of 100) and I'm proud to have been a part of this. I think each and every one of the attendees, and the instructors, did a great job of making these 9 days memorable and valuable for everyone.
Of course, I'm especially proud of my team who really knocked it out of the park on the last day. We are the kingmakers, right Jason?
Oh, and I got this shiny badge too!
Now, I'm really looking forward to a week of vacation in Nice — I think have deserved it by now.
Related Posts
Post last updated on August 8, 2019: Update vmware-center-for-advanced-learning-advanced-architecture-course.md