During todays Online Launch Event App Modernization in a Multi-Cloud World VMware announced the next generation of VMware Cloud Foundation; version 4.0. This release includes support for the new versions of vSphere and vSAN as well as updates to the vRealize Suite and NSX. NSX is not released in a new version at this time. but this Cloud Foundation update moves its requirement from NSX-V to NSX-T.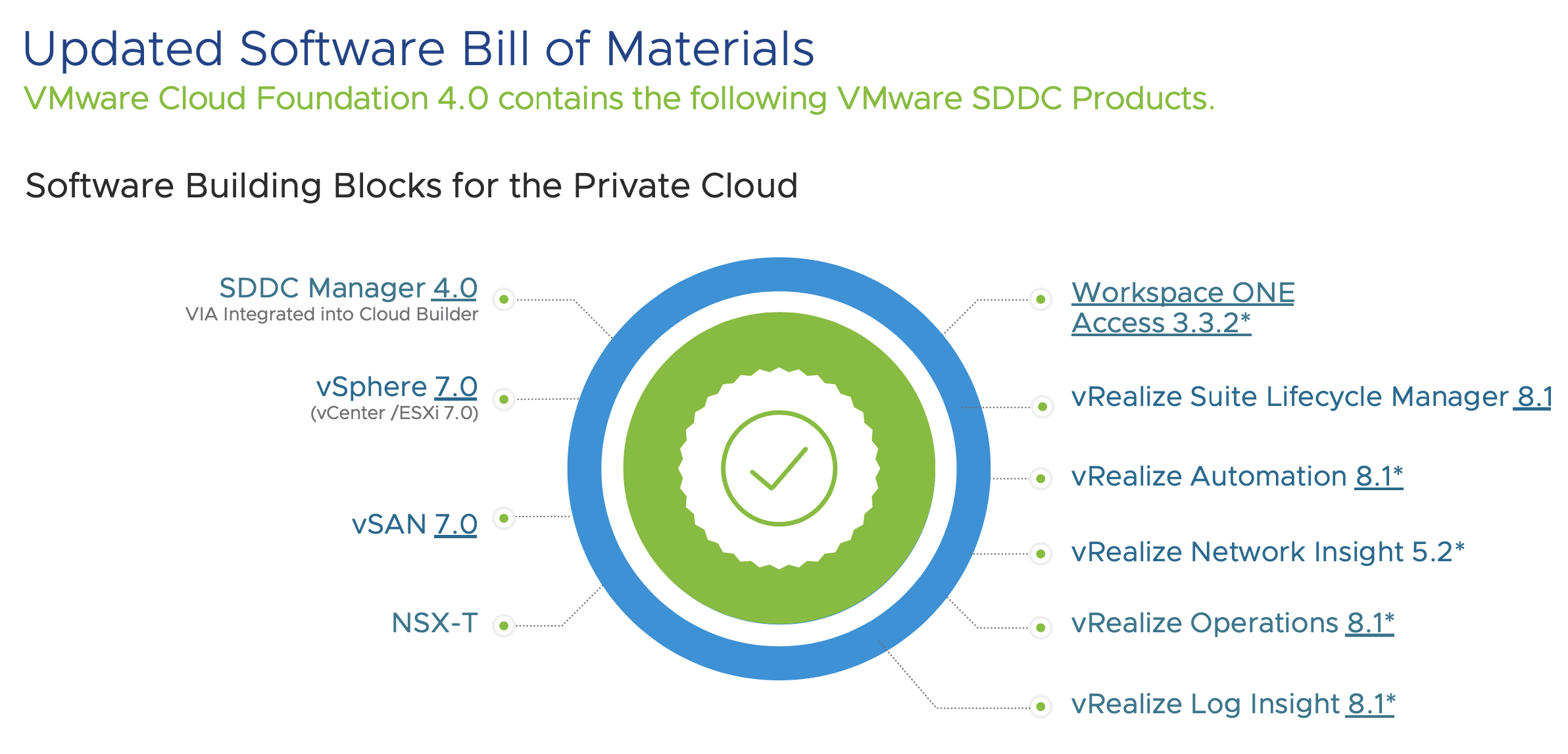 Here are a few of the highlights that the new release brings to market:
vSphere with Kubernetes on VMware Cloud Foundation

Now this is the big one! Cloud Foundation can now serve as the private cloud infrastructure for both traditional VMs and container based workloads. Simply put, VM admins get to use the tools they are used to like vCenter to manage resources, and developers gets access to known APIs for provisioning. This "best of both worlds" approach provides automated deployment of containerized Compute, Storage, and Network resources, without requiring specialized knowledge of containers.

Just like everything else in the Cloud Foundation world it works in a Workload Domain nomenclature, so does the Kubernetes integration. Spin up a Kubernetes Workload Domain in Cloud Foundation through the SDDC Manager, and your datacenter is ready to onboard containers.
This also allows for Lifecycle Management of the entire software stack: vSphere to K8s runtime from a single interface.
Reduced Management Domain Footprint

The Management Domain (WD) footprint has been reduced, since the vCenter PSC's are now embedded and the NSX Managers and Controllers are integrated.

Lifecycle Management - Ease of Upgrades and Patching

Lifecycle Management has been significantly simplfied

Multi-Instance Management

Through a new Federation feature, SDDC Manager now supports viewing and managing multiple Cloud Foundation instances. This includes viewing patching, upgrades, maintenance and remediation operations.
Related Posts
Post last updated on March 11, 2020: Update vmware-cloud-foundation-40-announced.md