VMware has announced the upcoming vSphere 7 Update 1 release, with some very welcome news for everyone who wants to run Kubernetes in their VMware estate. Previously, the only way to get vSphere wth Kubernetes, was to run it in VMware Cloud Foundation.
With this new update, this is no longer the case!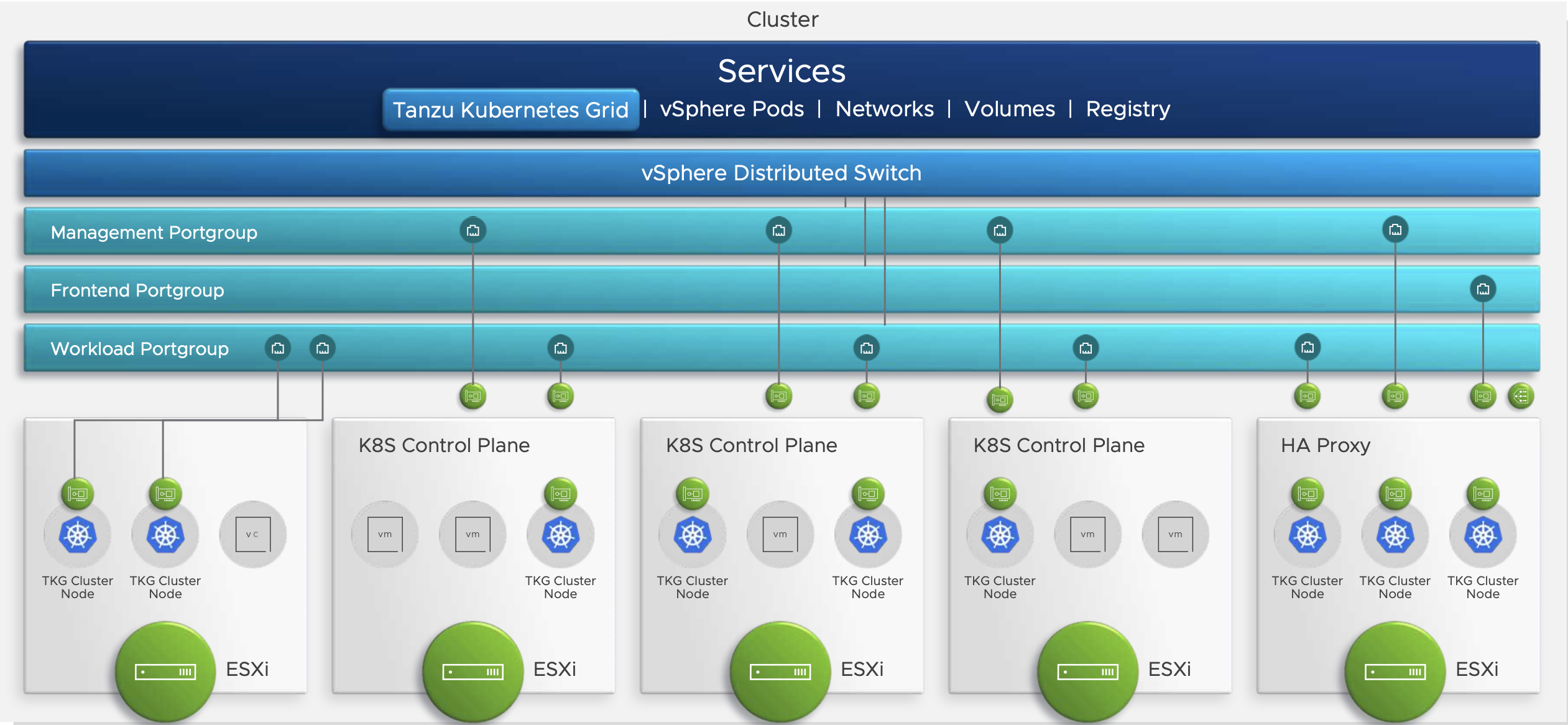 vSphere with Tanzu (not vSphere with Kubernetes) is offered as a drop-in in an existing vSphere 7 Update 1 installation. The feature is enabled through a wizard that guides you through the setup. Since it can use a vSphere Distributed Switch, there is no NSX requirement to enable it. Of course, it can use features in NSX if that is available, and some features might also only be available if NSX is present (like the vSphere Pod Service), but as a basic installation only requires a VDS with three Port Groups; Management, Frontend and Workload.
The install wizard creates the Kubernetes control plane nodes on vSphere, and connects it to the management and workload networks. The embedded Kubernetes control plane then exposes a set of services, including the Tanzu Kubernetes Grid Service for vSphere. The TKG Service gives developers access to upstream aligned, fully conformant Kubernetes clusters, right inside your existing vSphere 7 infrastructure. You even get a choice of which load balancer to use, including HAProxy.
Not only has VMware with this move adressed the VMware Cloud Foundation requirement for getting started with running modern applications on vSphere, but since there is no requirement for NSX or even vSAN for this to work, the basic entry-level point has been dramatically lowered.
This is basically Kubernetes infrastructure on vSphere, with your choice of networking, storage and load balancing solutions!
In fact, you can enable it and run a standard VMware trial of 60 days, without requiring a license, just to dip your toes in the water. From what I gather, the licensing is also simplified, and vSphere with Tanzu is a per socket license like vSphere itself.
Note
vSphere Enterprise Plus licensing is required to enable the feature.
Credit where credit is due; I think this is really great news! It adresses all my previous concerns about the scale of investment needed, and with the reduced requirements this makes it feasible for many customers to gain experience with running Kubernetes workloads besides their existing VMs.
VMware's messaging on this is (finally) simplified, and makes sense. VCF with Tanzu is the best way to run Kubernetes workloads at scale, and vSphere with Tanzu is the fastest way to get started.
Updates 15. September 2020: #
The release date has not been announced yet, but it looks like it might be sooner rather than later, and well before the end of the year — Remember VMworld 2020 is right around the corner as well.
In the announcement at the VMUG Virtual user/con in Boston on the 15th of september, Lee Casswell VP Storage and Availability for VMware, confirmed the release date as the 6th of October 2020.
I would also expect that we will see new packaging and feature Tanzu editions in the future, as it seems like VMware finally seem to get their story around PKS, Project Pacific, the Tanzu Portfolio and Kubernetes straightened out and clarified.
In Simplify Your Approach to Application Modernization with 4 Simple Editions for the Tanzu Portfolio indeed announces Tanzu Editions: Basic, Standard, Advanced and Enterprise. Basic and Standard will be available this quarter.
Other Resources #
What's New with VMware vSphere 7 Update 1 Getting started with vSphere with Tanzu by Cormac Hogan
vSphere with Tanzu Whiteboard Video #
Related Posts
Post last updated on September 24, 2020: Update vmware-vsphere7-with-tanzu.md