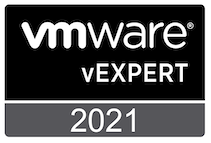 VMware has just announced the list of vExperts for 2021 and true to tradition here is a list of the Norwegian vExperts for 2021.
This year there is a total of 13 Norwegian vExperts, one more than in 2020.
If you want to be included in this list when it opens up again in June 2021, it's time to start plannning. As a vExpert Pro I'm happy to assist anyone who wants help applying!
Norwegian vExperts 2021 (February) #
That's quite a list! Out of those 13, I'd like to especially congratulate William Brown for his inaugural inclusion!
You can also check the entire official vExpert Directory for a complete list of the vExpert class of 2021.
Related Posts
Post last updated on February 12, 2021: Fix vExpert badge