Guess what? With vSphere 8 comes vSAN 8, and with it a slew of improvements and even a brand new architecture option!
This new optional next generation architecture is built into vSAN 8, and going forward customers can choose which architecture to deploy:
vSAN Original Storage Architecture (OSA)
vSAN Express Storage Architecture (ESA)
vSAN Original Storage Architecture (OSA) #
This is the traditional vSAN architecture we are already accustomed to, with dedicated cache and capacity drives making up Disk Groups that vSAN enabled hosts can consume and share within a cluster. Available as both a hybrid (Flash+HDD), and as an all-flash solution.
While the new vSAN Express Storage Architecture (ESA) is the flagship news in vSAN 8, there are also a few welcome improvements for vSAN Original Storage Architecture (OSA) in vSAN 8.
Increased maximum capacity on devices in cache/buffer tier for OSA

Cache/buffer tier maximum increased from 600GB to 1.6TB per disk group (All-flash)

Health Monitoring for Limited Connectivity Environments

Proactive notifications for environments not enrolled in Customer Experience Improvement Program (CEIP)

Available in both vSAN OSA and ESA deployments
A rather limited list of improvements for vSAN OSA in v8, but it was about time the cache device size was increased.
vSAN Express Storage Architecture (ESA) #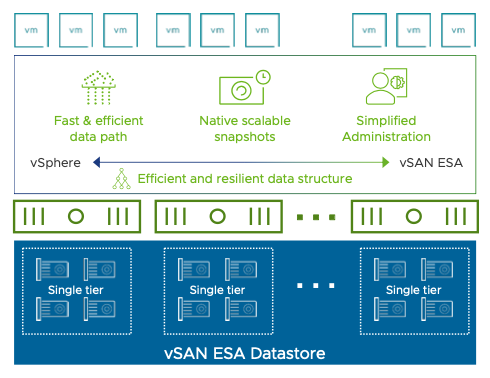 The new hotness, vSAN Express Storage Architecture (ESA), is a NVMe only option, which at launch requires a minimum of 4 NVMe devices per host. Gone are the concepts of cache devices and capacity devices, as well as the Disk Group concept. That's right, no more vSAN Disk Groups in ESA, which helps lower the size of failure domains. Basically ESA is a single tier architecture, for all-NVMe based TLC storage devices.
Info
vSAN ESA will only be available on ESA approved vSAN Ready Nodes (and VxRail models, I presume). This means that there is a separate ESA HCL. It also requires vSAN Advanced, or Enterprise, licensing.
At the time of announcement, there is no upgrade path from OSA to ESA, migration is done via vMotion/SvMotion to a new ESA cluster. The choice between OSA or ESA is done at time of deployment, and there is, at least not currently, no option to change a cluster from one architecture to the other.
This new architecture is managed in the same way as OSA, through vCenter and the Distributed Object Manager.
This new architecture enables quite an extensive list of new features and improvements:
New Log-Structured File System

Reduces I/O amplification
Low overhead
Allows for high performance snapshots
New I/O engine for Modern Flash Devices

New Log Structured Object Manager in vSAN ESA
Highly parallell & efficient I/O engine that promised high bandwidth, low latencey, and consistent scaling.
Express Storage Architecture (ESA) combines performance and capacity components into a single object, called legs

Performance leg

Ingests writes
Prepares data for full stripe width
Always RAID-1 mirror
FTT of mirror equal to storage policy
Lives on the same hosts as capacity leg components

Capacity leg

Combined data writtes as a full stripe write
Adheres to storage policy (RAID-5, RAID-6, etc.)
Optimized data handling

Compression of data happes once, at ingest. This reduces the network traffic and CPU resources required.
Encryption on data once, at ingest, which also reduces CPU requirements.
Data checksums are calculated at ingest, and reuses already calculated CRCs.
Asynchronous full stripe writes. These writes are fully parallel, and eliminates read-modify-write activities.
New High Performance RAID-5/6 Erasure Coding

Performance of RAID-5/6 will be equal to RAID-1
Adaptive RAID-5 improves space efficienty in smaller clusters.

Automatic adjustmet of RAID-5 scheme, based on cluster size. 4+1 scheme used for 6 or more hosts, 2+1 scheme for 3-5 hosts. 4+1 scheme uses 1.25x capacity, 2+1 scheme uses 1.5x.
Storage Policy-based Compression Capabilities

Toggled by storage policy — enabled by default
Minimal performance impact
Finer granularity of compression rates, compared to vSAN OSA
Improved efficiency with up to 8:1 compression ratios per 4KB data block
Reduced Overhead

Encryption occurs earlier on the write path, in order to minimize CPU resource usage and I/O amplification
Eliminates decrypt/recrypt steps for reduced CPU consuption, and increased network efficiency
Improved Point-in-Time native snapshots

Vastly improved snapshot performance, with low stun times
Highly scalable and efficient
Seamless integration with vSphere & 3rd party VADP backup solutions
Snapshots of objects in degraded status
Closing Comments #
It is obvious that going forward, the new vSAN Express Storage Architecture (ESA) should be the preferred choice for most deployments. The world has pretty much moved on from SSD's to NVMe devices, and a new architecture model that makes better use of those devices is clarly a good idea.
The improvements that ESA promises, both from a performance (CPU usage and I/O) perspective alone makes it very interesting. Getting rid of the management overhead, and failure-domain issues, that comes with the Disk Group (cache and capacity devices) construct in vSAN OSA is also a welcome change.
Simplifying the design and implementation and at the same time improving performance sounds like a good deal to me.
Given that vSAN 8 ESA delivers what it promises, this is a very welcome and big upgrade from the vSAN we already know.
Resources #
Last updated 01. september 2022
Related Posts
Post last updated on September 28, 2022: Update vmware-vsan8-announced.md