VMware announces vSphere 8 — The Enterprise Workload Platform at VMware Explore US. The new release comes with a number of new features and enhancements. At the time of writing, no set General Availability date has been published, but look for it being available some time this fall.

Here's a quick summary:
vSphere Distributed Services Engine #
Remember Project Monterey that was announced as a Tech Preview at VMworld 20201. Parts of that has now found its way into the core vSphere 8 offering.
Called the vSphere Distributed Services Engine, this enables the offloading of network servies to Data Processing Units (DPU).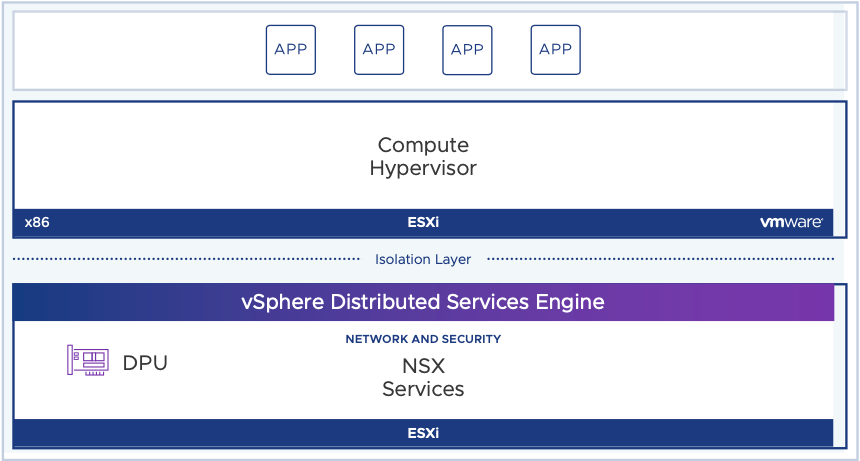 This first version of enables offloading of NSX Services to a SmartNIC (DPU) using a new vSphere Distributed Switch version 8.0: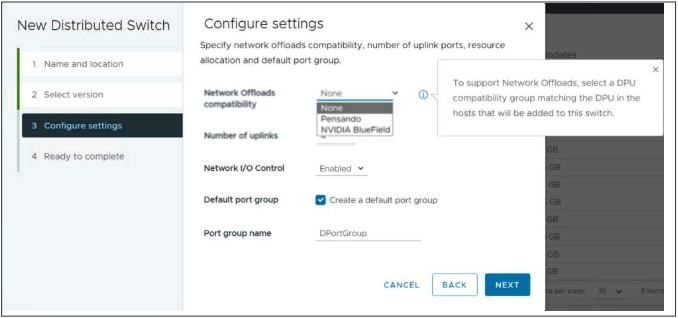 By offloading the processing of network traffic to a DPU instead of using the CPU, frees up resources that hosts and VMs can take advantage of, as well as help increase network performance. It will also enhance visibility and observability of the network traffic and provide better encryption, isolation and protection. See DPU-based Acceleration for NSX: Deep Dive (Youtube) for more details.
VMware vSphere with Tanzu #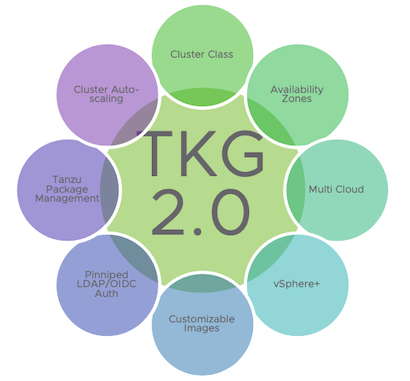 vSphere now runs Tanzu Kubernetes Grid (TKG) 2.0, with the following enhancements:
Unified Tanzu Kubernetes Grid
Increased availability with Workload Availability Zones
Declarative cluster lifecycle with ClusterClass

Define It Once, Use It Many Times — This is an Upstream Kubernetes conformant ClusterAPI. Defines configuration and default installed packages for Tanzu Kubernetes clusters. ClusterClass is defined in the cluster deployment specification.

Customize PhotonOS or Ubuntu images
Pinniped Integration

Bring Your Own Identity Provider, you can now decouple Kubernetes identities from the vCenter Single Sign-on Domain.
OIDC and LDAP support
Supervisor and TKG Clusters support Pinniped based authentication
Login Integration through Tanzu CLI
Lifecycle Management #
Lifecycle Manager Images is the default option going forward.2
Enhanced Recovery of vCenter

Recover vCenter without data loss.

Cluster state persists in ESXi hosts as a Distributed Key-Value Store (DKVS)
Distributed key-value store becomes the cluster source-of-truth
vCenter cluster state reconciles with the vSphere cluster during backup recovery
In short, this means that in a scenario where a host was added to a cluster after a vCenter backup was taken, and the vCenter is restored to that earlier backup the vCenter reconciles the cluster state with the state from the Distributed Key-Value Store (DKVS).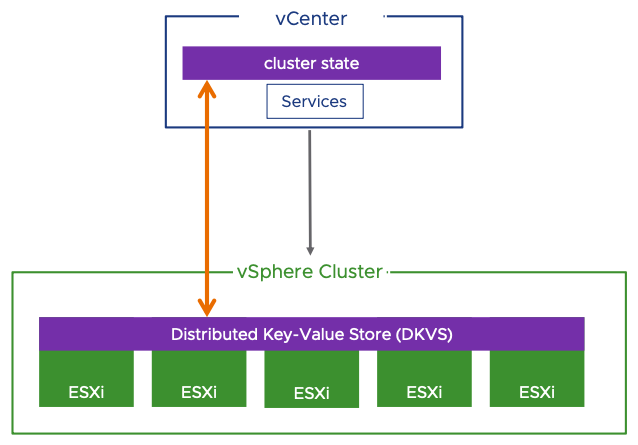 Other enhancements and news:
Staging Support

Stage update payloads in advance of remediation, without the need for maintenance mode
Reduces overall remediation time and time spent in maintenance mode per host
Less risk of remediation failure from live image transfer
Firmware payloads staged with Hardware Support Manager integration
Parallel Remediation

Remediate multiple hosts in parallel
Reduce the lifecycle operation time of a cluster
vSphere Administrator decides how many hosts will be remediated in parallel by placing the desired hosts into maintenance mode

It is my understanding that in vSAN enabled clusters, only one host will be allowed to remediate at a time to ensure that all data in a cluster remains available at all times.
vSphere Configuration Profiles

Configuration Management at scale — Future replacement for Host Profiles available as a Tech Preview in vSphere 8

A new desired-state model for all configuration options, with compliance drift monitoring. Remediates hosts back to desired state.

Standalone Host Support (API only)

VCG Listings for Hardware Security Modules feature support

DPU Support
Unified Management for AI/ML Hardware Accelerators #
Combine NIC and GPU devices

Share a common PCIe switch or a direct interconnect
Discovered at the hardware layer and presented to vSphere
Added to a virtual machine as a single unit
NVIDIA® support launching shortly after vSphere 8 GA
Next-Generation of Virtual Hardware Devices — Device Virtualization Extensions (DVX) #
New API for vendors to create hardware-backed virtual devices

Supports vSphere DRS and vSphere HA
Can support live migration using vSphere vMotion
Can support VM suspend and resume
Can support disk and memory snapshots
Guest OS & Workloads #
Virtual Hardware version 20

Latest Intel and AMD CPU support
Device Virtualization Extensions
Up to 32 DirectPath I/O devices
Guest Services for Application

vSphere Datasets
Application aware migrations
Latest guest operating system support
Performance and Scale

Up to 8 vGPU devices
Device Groups
High Latency Sensitivity with Hyperthreading
Virtual TPM Provisioning Policy

Choose between Copy or Replace when deploying VMs configured with vTPM devices
Copy will clone TPM secrets Replace will reset the vTPM device as new
ovftool support for vTPM device placeholder
Migration aware applications

Notify supported applications about migration taks, and let the application ackownledge that the migration can proceed

Use-cases

Time-sensitive applications
VoIP applications
Clustered applications

High latency sensitivity with hyper-threading

Virtual Machine vCPUs are scheduled on the same hyperthreaded physical CPU core
Simplified vNUMA configuration

Virtual NUMA topology and configuration is exposed to the vSphere Client
Configure virtual NUMA configuration during new VM creation
Edit CPU Topology settings of existing VM
vSphere DataSets

Share data between vSphere and a Guest OS
Data is stored and moves with the VM
Use-cases

Guest deployment status
Guest agent configuration

Perfect for things like SaltStack or similar.

Guest inventory management
vSphere Scalability #
Not much has changed as far as maximum configurations go, check the table below for details.
| Compute Resource | vSphere 7 U3 | vSphere 8 |
| --- | --- | --- |
| vCPU per VM | 768 | 768 |
| Memory per VM | 24 TB | 24TB |
| vGPU per VM | 4 | 8 |
| CPU per host | 896 | 896 |
| Memory per host | 24 TB | 24TB |
| Hosts managed by vLCM | 400 | 1000 |
| Hosts per cluster | 96 | 96 |
| VMs per cluster | 8000 | 10000 |
| VMDirectPath I/O devices per host | 8 | 32 |
Enhanced DRS Performance #
Some updates has been done to the to Dynamic Resource Scheduling (DRS)
vSphere Memory Monitoring and Remediation v2 (vMMR2)
Supports Intel® Optane PMem
Better distribution of L3 cache prefetch data on DRAM and Pmem
Uses Memory Stats for better VM placement
Security #
There has also been some improvements when it comes to security in vSphere 8.
Improvements to Intel® Software Guard Extensions (SGX) 3
TLS 1.2 & Better Cipher suites are now default
Prevent Untrusted Binaries

Basically VMkernel.Boot.execInstalledOnly is now default, preventing untrusted binaries from running on an ESXi host without this setting being explicitly changed. As this is one of the most common ransomware attack vectors, this is a welcome change to the deaults.
Closing Comments #
All in all vSphere 8 looks like a good incremental release, with a bunch of useful enhancements and new features.
There are no really huge game-changing features in the release, perhaps with the exception of the vSphere Distributed Services Engine. It is clear that we are moving more and more towards specialized silicon for specific tasks. GPU's and DPU's are gaining momentum! Truthfully we have had things like iSCSI and TCP Offloading (TOE) for a long time, but this goes beyond that. DSE enables software on the host to actively use the processing power of a DPU, much like what is done wth GPUs. Going forward I expect seeing more services move over to such a model, perhaps things like vSAN can use this technology as well, For now DSE does not support VMkernel ports, so at the time of writing this is not possible, but I'm sure that is something that is being actively worked on. Once we have VMkernel support on DPU's, we might also see vCenter Management of non-ESXi hosts as well, for bare-metal (sic) workloads.
Specialized silicon for specialized workloads really makes sense to me, not everything needs to be x86 after all.
Other than that, this release feels like an evolutionary release — which makes a lot of sense. vSphere is still the defacto on-premises datacenter standard, and this continues to build on that. In my opinion the real news in vSphere 8 is really vSAN 8 and it's new architecture model!.
Resources #
Last updated 01. september 2022.
Footnotes #
Related Posts
Post last updated on September 1, 2022: Add more links to resources