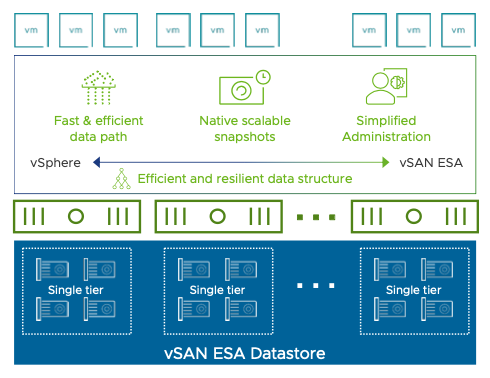 VMware has just released a new KB90343: What You Can (and Cannot) Change in a vSAN ESA ReadyNode™. For those looking to utilize the new vSAN 8 Express Storage Architecture (ESA) this is a great resource that outlines what components in a vSAN ESA ReadyNode™ can be changed. As outlined in KB90343 both CPU, Memory, Storage Device, NIC and Boot Device can all be changed from the defaults — check the KB for details. The vSAN ESA VCG is also available, albeit with a small number for vendors for the time being.
The KB also includes a very handy vSAN ESA ReadyNode™ FAQ which includes advice specific device requirements and minimum network requirements.
An updated vSAN Sizer that supports ESA is also under development, and should be available soon.
Related Posts
Post last updated on December 7, 2022: Update vsan8-esa-vmware-compatibility-guidance.md